Takeout Blitz Campaign
We encourage you to support local businesses during a crisis!
In light of recommendations of social distancing, the Griffin+Spalding Chamber of Commerce has compiled a useful list of member restaurants throughout the area who offer take out.
This is a very crucial time during this unprecedented event- which is why our local businesses, especially our restaurants, need us now more than ever.
Participate in our Takeout Blitz- see how many local restaurants you can support from now until April 30th! Tag us on Facebook or Instagram using #takeout and show us your delicious meals made with the spirit and hard work of one of the restaurants below!
Remember UBER EATS has decided to temporarily waive delivery fees to help support local restaurants!
#ingriffin #supportlocal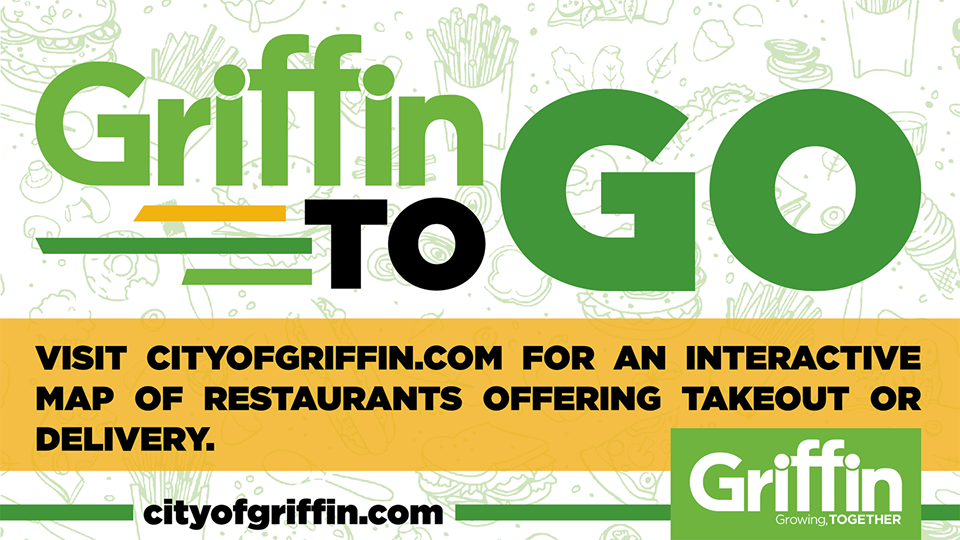 J Henry's 110 W College St. Reservatioin Dining Room Seating, Takeout and Curbside ONLY 678-688-1769 Facebook: https://www.facebook.com/J-Henrys-39793514638/
Salaam Seafood 503 E. Broadway St. 770-228-4273 Facebook: https://www.facebook.com/salaamseafood/
From the Farm UGA Griffin Campus 1109 Experiment St 770-228-7265 Taking Online and Call Orders- Updated Hours 9 to 2 Facebook: https://www.facebook.com/itsfromthefarm/
Firehouse Subs 118 W. Taylor St TAKE OUT ONLY 770-227-7562 Website:https://www.firehousesubs.com/locations/ga/griffin/?fbclid=IwAR1f6cMlkaypx5Joxt-rdFkDkeARW8cCtPhZT3gfRQSgJjsgvVxqGbfDozk
Griffiths 1015 Memorial Dr. 770-227-1111 TAKEOUT ONLY Facebook: https://www.facebook.com/GriffithsDriveIn/
Dairy Queen 1020 W. Taylor St. DRIVE THRU & Take OUT Only 770-227-4021 Website https://www.dairyqueen.com/?fbclid=IwAR36C6U5JKaczqdhczbN_ShUIu2R6FkQIti2pdFnJ9yrvzuo32zMqo2ZZHk
Dairy Queen 1110 Memorial Dr. 770-228-1318 DRIVE THRU & Take OUT Only Website https://www.dairyqueen.com/us-en/Locator/Detail/?localechange=1&store-id=695&fbclid=IwAR1hZJqI0vfPOhG8OLP68Smj9SlxJiNpAO87Kh7EaSl-Z5PKu4DwogbdVro
Uncle Bobby's Wings & Beer 1618 N. Expressway 678-688-8533 Limited Dine-in & Take Out Facebook: https://www.facebook.com/UBWINGS/
Taco N Go 315 W. Taylor St. 678-603-2544 Facebook: https://www.facebook.com/TacoNGoGriffin/
Longhorn 1653 N. Expressway 770-227-4093 Dining Room Open + Curbside Facebook: https://www.facebook.com/LongHorn-Steakhouse-174733769234518/
Domino's 406 W. Taylor 770-229-1872 Facebook: https://www.facebook.com/DominosPizzaGriffinGA406WTaylorSt/
O Charley's Restaurant 1512 W. McIntosh 770-233-8156 Website: https://www.ocharleys.com/?fbclid=IwAR3Ae7fJWWSB10Egz38dEYAxQ9AjIZl-U0zJrNm1H53pcAKIhXnSmDBFecg
Chic-Fil-A 1000 W Taylor St 770-227-0716 DRIVE THRU & Take OUT Only Website: https://www.chick-fil-a.com/
Zaxby's 1504 W McIntosh Rd 770-233-0446 DRIVE THRU & Take OUT Only Website: https://www.zaxbys.com/
McDonald's 611 W Taylor St 770-227-5173 Website: https://www.mcdonalds.com/us/en-us/location/ga/griffin/611-w-taylor-st/2267.html?cid=RF:YXT:GMB::Clicks
Catarina's Mexican Restaurant 650 N Expressway 770-227-7774 Website: https://www.facebook.com/pg/Catarinas-Mexican-Restaurant-220259958057506/about/
Marco's Pizza 1432 Highway 16 West 770-412-4240 TAKE OUT & CURBSIDE Only Website: https://www.marcos.com/
The Corner Cafe 101 N Hill St 678-572-4222 Curbside & Take-out Only Website: http://www.thecornercafegriffin.com/
Margo's Restaurant 1136 West Taylor St 770-229-4602 Limited Dining Room Seating TAKE OUT Only Website: https://www.facebook.com/MargosGriffin
Kentucky Fried Chicken 202 S Hill St 770-227-3678 Website: https://locations.kfc.com/ga/griffin/202-hill-street
Kentucky Fried Chicken 1410 N Expressway 770-228-2432 Website: https://locations.kfc.com/ga/griffin/1410-north-expressway
Burger King 216 W Taylor St 770-228-2464 Website: https://burgerking.com/store-locator/store/restaurant_133
Burger King 1412 N Expressway 678-335-6988 Website: https://burgerking.com/store-locator/store/restaurant_65946
Truett's Grill 1455 N Expresway 770-233-1712 DRIVE THRU & Take OUT Only Website: https://www.chick-fil-a.com/Locations/GA/Truetts-Grill-Griffin
Your Pie 1501 Highway 16 W 678-603-1761 Facebook: https://www.facebook.com/yourpiegriffin/
Southern Pit BBQ 2964 N Expressway 770-229-5887 HAS ADDED DELIVERY Website: http://www.southernpitbbq.com/