Back to Events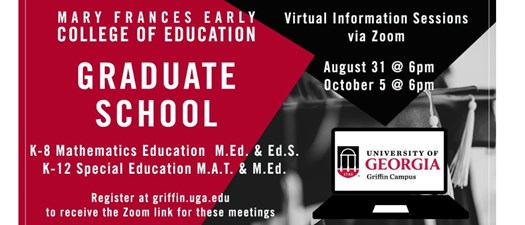 UGA Graduate School
Monday, August 31, 2020
Event Details
Our next virtual information session for  Graduate Degrees in Mathematics Education and Special Education will be on August 31.  These UGA degrees are offered on the Griffin Campus. 

If you're interested in learning more about these programs, we hope you can join us!  Please go to https://docs.google.com/forms/d/e/1FAIpQLSe8uQensvtL7W2N_La4CIUCZHk5fsahL-teHCE9olAJawsPYg/viewform to register.  A link will be sent to those who complete the registration form.


If you know of others who may be interested, please do share.  Additionally, we have the MAT in Special Education(K-12) for those who may have a desire to enter the teaching profession but have a bachelors in a completely different field.  If you know of anyone looking for such a program, please share with them, too.

And PS---the Mathematics Education  Masters and Specialist degrees are no longer requiring the GRE or Millers Analogy test.... (Special Ed degrees, do, though).
If you'd like to sign up for the later Oct 5 session, you can do so at https://docs.google.com/forms/d/e/1FAIpQLSe8uQensvtL7W2N_La4CIUCZHk5fsahL-teHCE9olAJawsPYg/viewform

For More Information:
University of Georgia Griffin Campus
1109 Experiment Street
Griffin, GA 30223
United States
(770)228-7263