Back to Events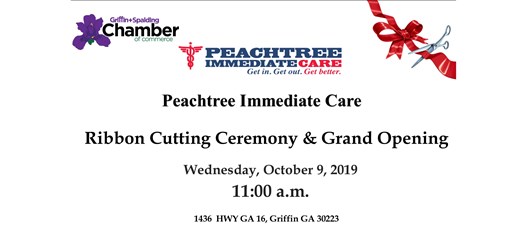 Ribbon Cutting - Peachtree Immediate Care
Wednesday, October 9, 2019
11:00 AM - 12:00 PM (EDT)
Event Details
Join us as we welcome new business and new Chamber Member, Peachtree Immediate Care to their new location at 1436 Highway 16W. (Besides Marco's Pizza)

A little bit about them:
OUR COMMITMENT TO PATIENTS
Our "5 C's" guide everything that we do as a company:

Convenient: We will be easy to find, close to home, quick to serve
Courteous: We will treat everyone with respect and show gratitude for their patronage
Caring: We will have empathy for our patients and seek to ease or erase their healthcare problems
Competent: We will provide knowledgeable staff, efficient processes, and sound business practices
Compliant: We will follow regulatory rules and guidelines and will not cut corners for profit or expediency
Get in. Get out. Get Better!