Back to Events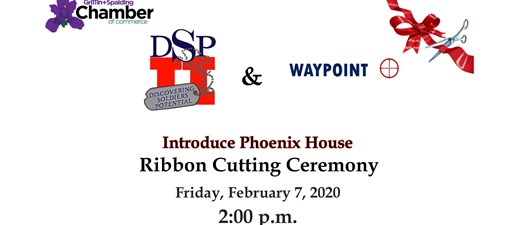 Ribbon Cutting - DSPII & Waypoint
Introduce Phoenix House
Friday, February 7, 2020
Event Details
Join us as we help Waypoint and Discovering Soldiers Potential (DSP) celebrate the opening of Phoenix House. It will be the first ladies veterans transition home in Spalding County!

Waypoint Griffin, a collaboration between Discovering Soldiers Potential (DSP) II and the Genesis Prevention Coalition, serves veterans from Spalding County and 13 surrounding counties as they transition from their military life into civilian life.

Located in the old Spalding County Courthouse on East Broad Street, Waypoint assists veterans in a wide variety of issues, such as behavioral health, benefits counseling, employment resources, educational resources, legal and financial services as well as housing and emergency funding assistance

We hope to see you there!!
For More Information:
Discovering Soldiers Potential II DSPII (Waypoint)
232 East Broad Street
Griffin, GA 30223
United States
(770)415-0859