Back to Events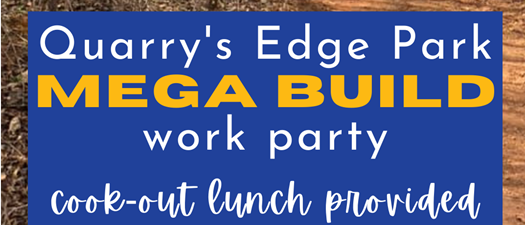 Quarry's Edge Park workday
Saturday, May 1, 2021
Event Details
Join us on Saturday, May 1, 2021, for a community wide Quarry's Edge Park workday.
Quarry's Edge Park was originally the vision of longtime Spalding County Parks & Recreation Director Louis Greene. The approximate 100-acre site was donated to Spalding County by the Dundee Community Association. The property will soon be host to mountain bike trails, bouldering, and nerf gun competitions. While parts of the trails are open the overall clean-up and design is still going strong.
We are inviting the community to join us for a MEGA BUILD workday from 8am until just after noon with a cook-out lunch provided on site. This Saturday's work will consist primarily of trimming roots, removal of small stumps, raking, and other tasks using small hand tools. Spalding County has plenty of equipment but if you would like to bring your own feel free to. We are asking everyone to bring their own work gloves and eye protection.
If you would like to join us this Saturday as we continue to make Spalding County the place to LIVE, WORK, & PLAY please RSVP via https://www.facebook.com/events/142192077851199/ or email rconort@spaldingcounty.com so that the sponsor can have an accurate headcount for lunch.