Back to Events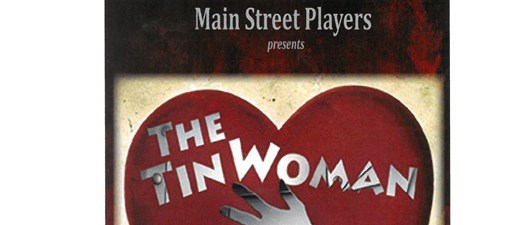 Main Street Players presents The Tin Woman
Recurring Event
Next Date: Wednesday, February 15, 2023
Event Details
What do the Tin Man in The Wizard of Oz and The Tin Woman have in common…a heart. There are many reasons to do plays-to entertain, to elevate, or to educate. On rare occasions you come across a play that does all three. Our next production, The Tin Woman, at Main Street Players is such a play.
This powerful and moving play about celebrating life will touch your soul. Based on a true story, Sean Grennan's beautifully written play combines humor and pathos to explore loss, guilt and family and what it means to be given a second chance. Featuring a blend of genres, The Tin Woman is perfect for anyone longing for a story full of heart. "We chose this play because we liked the mix of comedy and drama with a pinch of fantasy thrown in," says Norma Richardson, Managing Artistic Director. "It is a must see!"
The Tin Woman will run Wednesday, February 15 through Sunday, February 26, 2023. Wednesday-Saturday performances are at 7:30 PM, with Sunday matinee performances at 3:00 PM. To purchase tickets contact the Main Street Players box office at 770-229-9916. Tickets can also be purchased online by visiting mainstreetplayers.org and selecting "ticket purchase and information." Remaining tickets will also be sold at the theatre the evening of each performance. Tickets are $30 for adults, $25 for seniors, and $15 for students, with special discounts available for groups of 10 or more.
For More Information:
Main Street Players
115 North Hill Street
Griffin, GA 30223
United States
(770)229-9916