Back to Events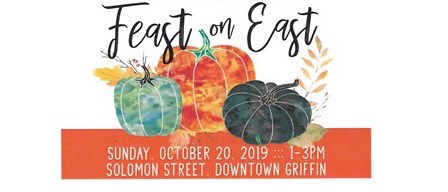 Feast on East
Sunday, October 20, 2019
Event Details
Let's Eat Together Griffin!

Feast on East, presented by Tommy Allen Real Estate, will be held on Solomon Street on Sunday, October 20 from 1:00-3:00. Join us as we come together to share a meal as a community in the heart of our city. Chef Duncan and staff will be preparing a 3 course, feast style meal, along with desserts from The Cookie Jar. Local musician, Taylor Hammons, will fill the air with live music. Family friendly event.

We look forward to celebrating Griffin with you all. 100% of all profits go back into the growth of Downtown Griffin.

Pricing:
Children 0-5 years: FREE
Children 6-12: $12.50
Adults (13+): $20

Tickets go on sale September 15th.