Back to Events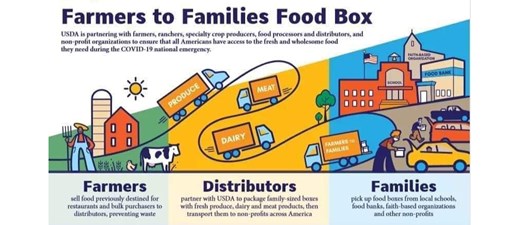 Farmers to Families Food Box
Saturday, July 18, 2020
Event Details
Get ready for another round of free Produce! The Lions Club will once again be offering a free 20lb box of produce on Saturday July 18, 2020 from 11 am until 1 pm at Griffin City Park located at 601 Camp Northern Road. Tell your family and friends it's FREE! First come first serve!

GRIFFIN LIONS CLUB IN CONJUNCTION WITH THE CITY OF GRIFFIN, AND SPALDING COUNTY GOVERNMENT, WILL DISTRIBUTE FREE BOXES OF FRESH PRODUCE TO THE PUBLIC AS PART OF THE USDA'S 2nd Round of the FARMERS TO FAMILIES FOOD BOX PROGRAM

Lions Clubs volunteers will distribute a truck load filled with 1,920 boxes of fresh produce on Saturday July 18, 2020 at Griffin City Park, located at 601 Camp Northern Road, Griffin, GA 30224.

This hunger relief effort will aid the general public as we are re-opening our communities following the COVID-19 crisis.

Lions Clubs of Georgia has partnered with Collins Brothers Produce of Forest Park, Georgia in this USDA Farmers to Families Food Box Program. Boxes going out currently are assorted with carrots, Idaho potatoes, sweet potatoes, onions, lettuce, lemons, cucumbers, apples, and oranges. There will be no dairy or meat products at this time.

As part of the Coronavirus Farm Assistance Program U.S. Secretary of Agriculture Sonny Perdue announced on April 17 that USDA is exercising authority under the Families First Coronavirus Response Act to purchase and distribute agricultural products to those in need. Through this program, USDA's Agricultural Marketing Service (AMS) is partnering with national, regional and local suppliers, whose workforce has been significantly impacted by the closure of restaurants, hotels and other food service businesses, to purchase up to $3 billion in fresh produce, dairy and meat products. The program will purchase $461 million in fresh fruits and vegetables, $317 million in a variety of dairy products, $258 million in meat products and $175 million in a combination box of fresh produce, dairy or meat products. Suppliers will package these products totaling $1.2 billion into family-sized boxes, then transport them to food banks, community and faith-based organizations, and other non-profits serving Americans in need. AMS (has extended) the period of performance of the contracts, via option periods, dependent upon program success and available remaining funds, up to $3 billion.

The truck filled with fresh produce boxes will be coming to the City of Griffin on:
Saturday, July 18, 2020 from 11:00 am – 1:00 pm
Located at:
Griffin City Park
601 Camp Northern Road
Griffin, GA 30224

Folks are to remain inside their vehicles at the distribution sites while volunteers load one box per vehicle into the trunks or back seats. Volunteers will utilize masks, gloves, hand sanitizer, and practice social distancing.

Since 1968, LCIF has funded service work through personal financial gifts from Lions members and the general public. LCIF helps Lions improve peoples' lives around the world, from combating vision problems to responding to major catastrophes to providing valuable life skills to youth, and much more. Learn more at lcif.org and lionsclubs.org.

"Where There's a Need, There's a Lion. Over 4,500 Lions Clubs members, from over 150 Lions Clubs in Georgia, constantly work together to serve our communities whether it is an emergency pandemic crisis like COVID-19 or ordinary issues with vision & hearing care, diabetes awareness and prevention, fighting hunger, battling childhood cancer, helping environmental causes, and many other humanitarian activities.

Lions Clubs are a group of men and women who identify needs within the community and work together to fulfill those needs. For more information or to get involved with the Lions Clubs, please contact Lions Club Zone Chair Anthony Gallman at 678-774-9301.
For More Information:
Griffin Lions Club
PO Box 291
Griffin, GA 30224
United States
(404)451-8430