Back to Events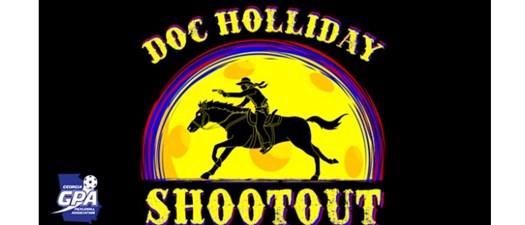 Doc Holliday Shootout Pickleball Tournament 2022
Friday, April 29, 2022
to Sunday, May 1, 2022
Event Details
While Griffin, GA won't be mistaken as the O.K. Corral, we can offer you good times, exciting pickleball play, and the southern hospitality of Doc Holliday's hometown. The DHS Pickleball Tournament takes place in the beautiful Wyomia Tyus Olympic Park in Spalding County Georgia. The pickleball facility is a world class 18 court venue with plenty of shade structures, open greenspace for personal tents, clean restrooms, concessions, and a players hospitality tent. 

Please note, the courts at Tyus Park are DecoTurf surfaces, therefore chairs, bags, tents, animals, etc. are not permitted on the courts. The courts are for pickleball play only and non-marking court shoes are the only approved footwear.
SCHEDULE
Thursday, April 28th:
Practice Day - Courts are open from 8AM – 10PM
Friday, April 29th:
Men's Singles and Women's Singles (first matches begin play at 2:00 PM)
Saturday, Apr 30th:
Men's Doubles and Women's Doubles (first matches begin play at 8:00 am)
Sunday, May 1st:
Mixed Doubles (first matches begin play at 8:00 AM).
For More Information:
Spalding County Pickleball Association, Inc.
1301 Cowan Road
Griffin, GA 30223