Back to Events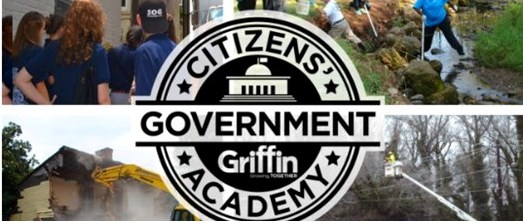 Citizens Government Academy
Must Register by September 2, 2022
Recurring Event
Next Date: Thursday, September 8, 2022
Event Details
The City of Griffin Citizens' Government Academy is a ten-week program designed to offer residents the opportunity to learn more about local government! Participants go behind the scenes and experience first-hand the wide range of government functions, services, activities, challenges, and how to get more involved. Each class uses hands-on activities and open discussions to provide participants with an interactive experience and an in-depth look into the City of Griffin. Classes will take place starting Thursday, September 8, 2022, and continue with graduation on Thursday, November 10, 2022.
Participants Will Have An Opportunity To:
Meet The City Manager
Meet The Board Of Commission
Tour City Facilities
Learn From Each Department
Program Topics Include:
City Budget
Public Safety
Economic Development
Municipal Court
Griffin Utilities
Beautification
Tourism
Motor Pool
Communication AND MORE!
Citizens' Government Academy is held on Thursdays for ten consecutive weeks, starting Thursday, September 8, 2022, until Thursday, November 10, 2022, from 6pm to 8:30pm, with dinner provided at each class. Participants must be 18 years or older and a resident of the Griffin-Spalding community. Participants must complete an application to participate. For additional questions, please contact Danielle Hancock at dbhancock@cityofgriffin.com.