Back to Events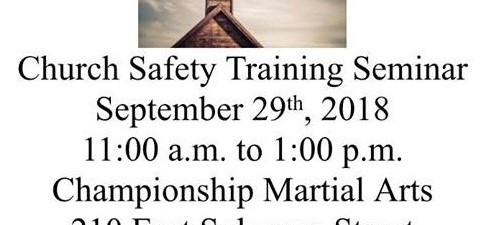 Church Training Seminar
Hosted by Ted Manolis
Saturday, September 29, 2018
Event Details
Church Safety Training Seminar
September 29th, 2018
11:00 a.m. to 1:00 p.m.
Championship Martial Arts
210 East Solomon Street
Griffin, Ga. 30223
770-228-6159
Topics:
• Situational awareness/behavioral profiling – Develop the ability to determine the difference between a threat and a spiritual need.
• Verbal de-escalation – Learn how to verbally manage a critical situation and avoid an incident.
• Takedown, control, and escort tactics – Develop the skills to handle a physical situation in a professional and Godly manner, minimizing harm to the individual, team members, and innocent bystanders.
• Empty hand versus weapons tactics – In cases where safety team members are not armed, learn the skills to be able to at least have a chance to disarm an individual carrying a knife, handgun, long weapon, or an impact weapon.
• Active shooter training – Learn crowd control and best chance survival strategies for everyone involved.
• Defensive and offensive hand to hand skills – Learn skills necessary to defend yourself if attacked.
• Handling medical, evacuation, and weather emergencies – what is your plan in the event of a medical emergency, fire, tornado, severe storm, etc.
• Learn how to develop S.O.P.'s - or Standard Operating Procedures for your team.
• The spiritual role of a safety team member – learn how the spiritual goal of a safety team member, or Armor Bearer, is to fully support the leadership of the Church, and the vision of the Church.

Handouts will be provided during the training.
Attire is tennis shoes, shorts or workout pants, and t-shirt.
Each attendee will be required to sign a waiver before participating.
Classes are 2 hours and the fee is $20.00 per person per class.