Back to Events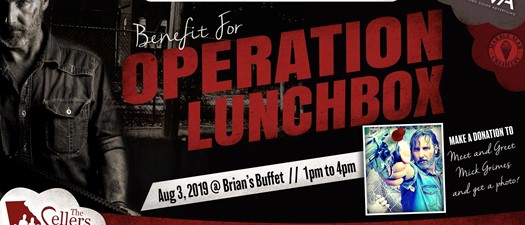 Take a Bite Out of Hunger
Benefit for Operation LunchBox
Saturday, August 3, 2019
Event Details
Time to take a stand--take a bite out of hunger, and feed the living because no child should go hungry.

The Sellers Law Firm, LLC, is excited to announce this benefit meet and greet, benefitting our partner charity Operation Lunchbox (OperationLunchbox.org).

SPECIAL GUEST: Mick Grimes! Professional cosplayer of the character Rick Grimes created by Robert Kirkman in his comic book and t.v. series The Walking Dead.

On Saturday, August 3, 2019, in Griffin, GA, stop by from 1pm to 4pm to have your photo made, get an autograph, but some merch, or just swing by to have a good time.

Donations will be collected in place of direct sales, and ALL PROCEEDS will be donated to Operation Lunchbox.

Will you help feed the hungry? Join Mick Grimes in the fight to keep the Dead from Walking, and help us feed the living.

This is a DONATION only event. No tickets to purchase, but please bring monetary donations for photos, autographs, merch & more!