Back to Events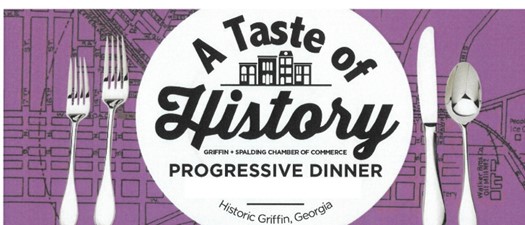 A Taste of History Progressive Dinner Tour 2023
Saturday, April 15, 2023
Event Details
Taste of History is BACK by popular demand!
Get to know Griffin!  Experience the charm of this sweet southern town, while you learn about its history from knowledgeable guides.  Your tour will take you on a progressive taste and history tour of the city.  You may even run into some famous legends of Griffin's past.
Presented by the Griffin+Spalding Chamber of Commerce Ambassadors and these supporting restaurants and venues: Bailey TeBault House, home of the Griffin Historical Society; The  Emerald Chandlier; Dundee Cafe/From The Farm Restaurant on the UGA Campus, Celebrity Suites Lounge and Smoq'd BBQ.
This  year, our Taste of History event will take you through a different look at the first 100 years of our sweet southern town.  We will be enjoying a progressive "taste" at new places and meeting new faces! Get to know Griffin in a whole a new way!
Tickets are available March 13, 2023!  Come and bring a friend, cost of the tickets is $50 per person and includes transportation, food and beverages.
Sponsorships are still available!
For More Information:

143 North Hill Street
Griffin, Georgia 30223
United States
(770) 228-8200
Limited number of tickets available, register now to reserve your seat! 
Tickets will sell out fast!