Stache Studio Receives funding for Summer Camp Scholarships
PRESS RELEASE ::: Monday, June 3, 2019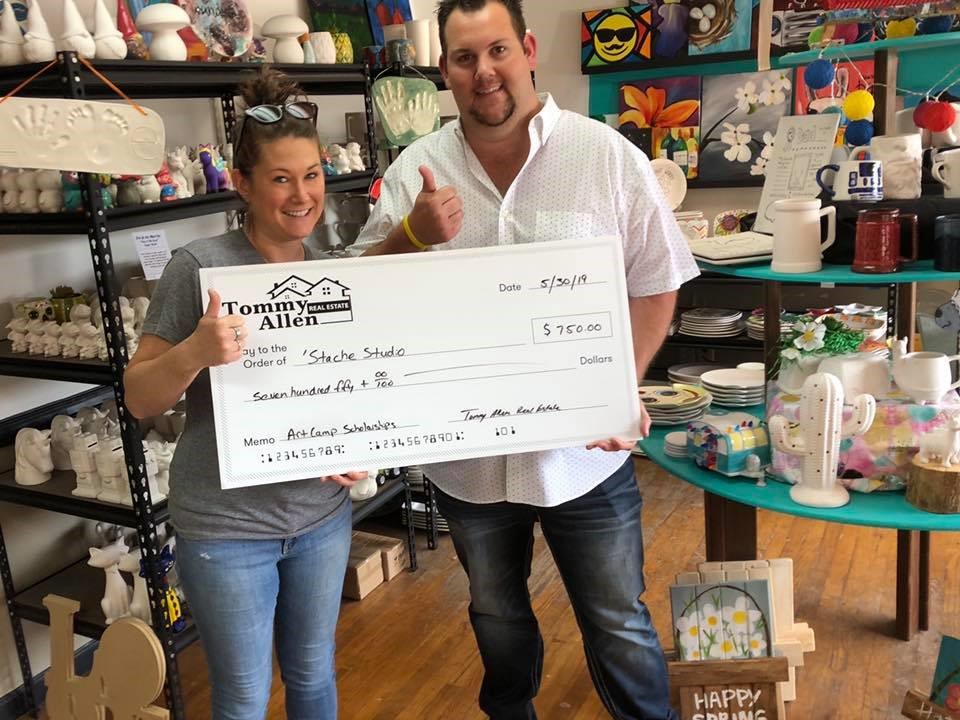 Six children will experience the fun and excitement of art summer camp thanks to middle-Georgia real estate agent Tommy Allen. Allen, who says he attended art summer camp at Clay Shapers as a child, has donated $750 for art scholarships to 'stache studio, a do-it-yourself art studio located in downtown Griffin.
"I remember when I was a child, my parents would send me to art summer camp at Clay-shaper in Griffin. It was a blast. Art is a way for people to express themselves and just enjoy others company. My wife and I have enjoyed 'stache for many years, and I know my baby boy will enjoy going here," Allen said.
'stache studio posted the opportunity to Factebook and allowed the community to nominate deserving children. "It was so hard to choose!" said Jessica Greogry, owner of 'stache studio. "We narrowed it down to a few kids whose nominators said they'd had a hard time, lost loved ones, or really resonated with art. Then we just had to make it random because of course we believe that everyone deserves and can benefit from art camp!"
Gregory went on to say that she was floored when Allen contacted her regarding the scholarships. "Tommy and his wife come to 'stache often to paint, and when he reached out saying that he wanted to do a scholarship to each of our six camps, I was speechless," she said.
"Tommy Allen Real Estate is a local business and we love to give back to our community where we work and live. We are excited to offer these scholarships and plan to offer more opportunities in the future with 'stache," Allen said
For more information regarding Tommy Allen Real Estate, visit www.tommyallensells.com; for more information regarding 'stache studio, visit www.stachestudio.net.