Regional Economic Summit 2019
Date posted
December 6, 2019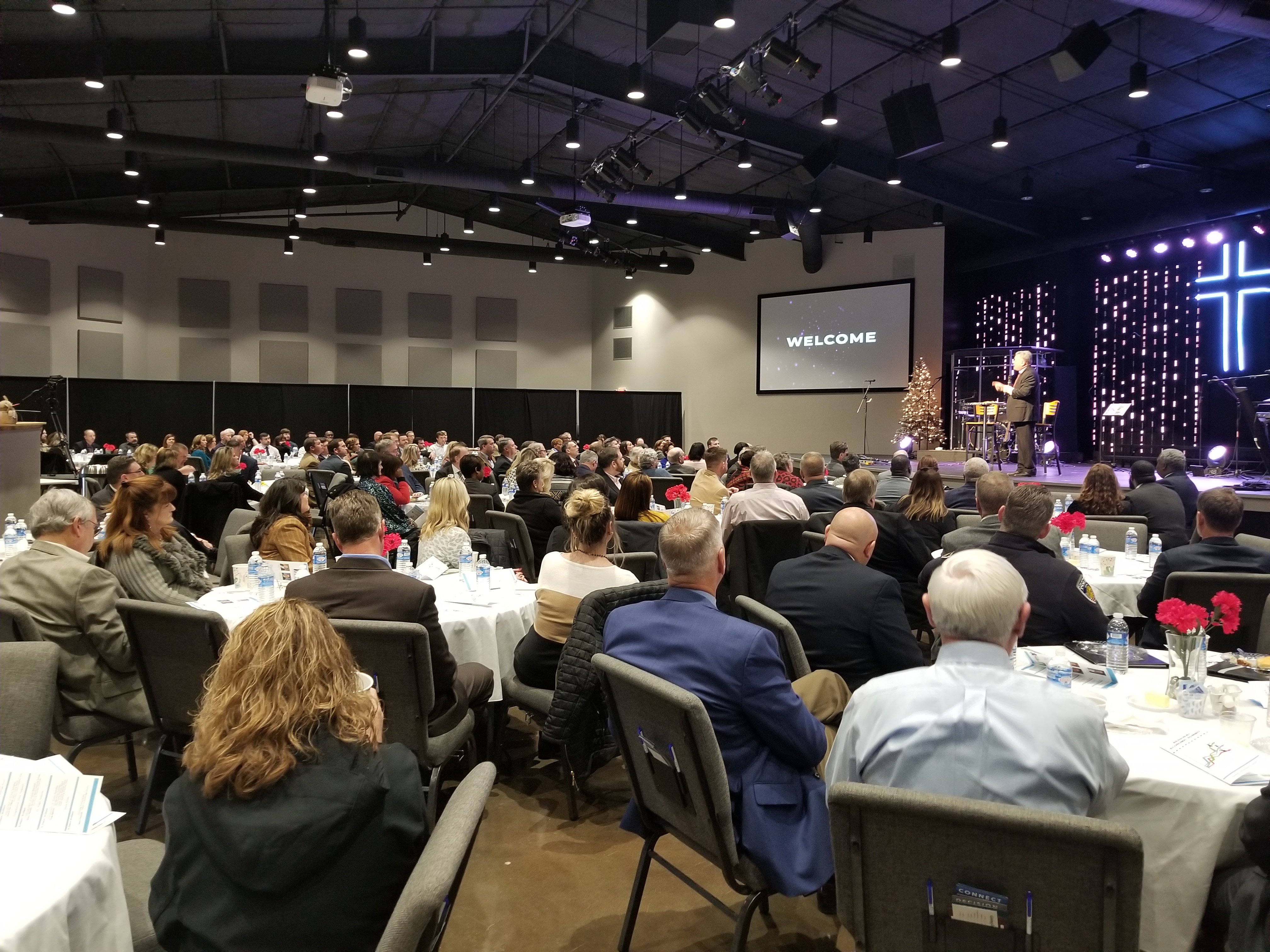 This week the Griffin+Spalding Chamber of Commerce partnered with the Zebulon Pike County Chamber, the Thomaston-Upson County Chamber and the Barnesville-Lamar Chamber of Commerce to host a Regional Economic Summit. The cumuliation of several months of planning came to conclusion this past Tuesday at Northridge Church in Thomaston. Just shy of 200 guests shared a full breakfast while hearing updates from guest speakers: Congressman Drew Ferguson, Dr. Steve Tutterow of Kennesaw State and Mr. Steve Foster from the Georgia Bureau of Investigations Division of Cyber Security.
Griffin+Spalding Chamber of Commerce 2019 Board Chairman, Kathleen Smith of WellStar Spalding Regional Hospital Foundation made note of Tutterow's comments on unemployment "Tutterow discussed how employment rates are calculated [total unemployed labor pool / total employed + total non-employed labor pool. (Total unemployed labor pool meaning those unemployed who are searching for employment). Those unemployed and not looking are left out completely.] He talked about how the labor pool has dropped in 2019 (meaning more are not looking for work.) The assumption was that this reflected the older generation who were perhaps retiring earlier or choosing not to work. But when an analysis was completed it shocked everyone. The demographics over 45 had basically stayed the same since 2009, but the demo aged 16 to 19 had dropped to 28% from 66% of those unemployed looking for work; and the 20 – 35 was also way down. The younger generations are not seeking work when unemployed at near the rates of other demographics or what they were 10 years ago. He said this is what is impacting our labor pool now and will impact it in the future as well."
Her comments gathered from Special Agent in Charge for the Georgia Bureau of Investigation, Steve Foster, "introduced some staggering numbers regarding Cyber Crime in Georgia - $544 million a year is lost in Georgia to Cyber Crime; this represents an increase of 66% in cyber attacks in 2018 over 2017. Agent Foster discussed the two most prominent forms of attack growing now in our state: Ransomware and Business Email Compromise. He discussed the evolving focus of cyber criminals as well as the 20 items an organization should be implementing now to help prevent it. However, two sobering statistics he explained was the fact that 92% of all cyber crime starts with an email; and even after employees are trained to be ever more watchful of emails, 25% still open their company up through email habits."
Thank you Chairman Smith for your comments from our speakers.
We look forward to future partnerships with surrounding Chambers of Commerce to bring you information that is benefiical to our members and communities.