Join us in Italy!
Date posted
August 3, 2022
The 2023 Italy Tour is FULL
Thank you everyone who has registered to travel with us to Italy.
We have reached capacity for this tour. Join us in 2024 as we travel to Greece!
Your trip includes:
● Roundtrip international airfare & Tax ● 9-day deluxe tour package
● 4 & 5-star hotel accommodation, breakfast & lunch ● Deluxe bus
● Fluent English-speaking tour guides ● Entrance fees to attractions
Price reflects double share occupancy
5-star service standard with low group travel rate
Add $800 for single room supplement
Including post departure group travel protection
Valid passport required
Free shuttle bus on departure and return day
Accept credit card payment without handling charge
Including everything on itinerary and tax
Plan now to join Griffin Spalding Chamber group for this once in a lifetime Italy adventure. Please call Cindy at
Chamber 770-228-8200 for details, email registration form to cjones@cityofgriffin.com
Tour Operator: Citslinc International, Inc. 1-844-262-1100 Email citslinc@aol.com Website www.citslinc.org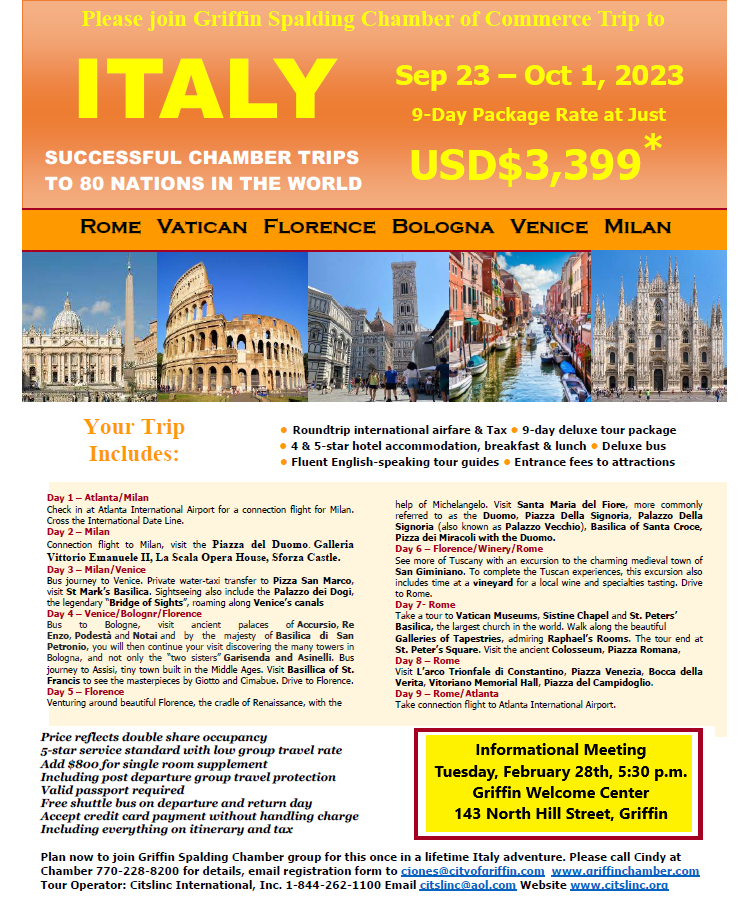 Day 1, Atlanta - Milan Flight from Atlanta to Milan.
Day 2, Milan
Bus to City Center in Milan, choice of shopping or Cathedral tour, Milan nice walk in the city center. Visit the Piazza del Duomo. Galleria Vittorio Emanuele II, La Scala Opera House, Sforza Castl.
Meet back at fountain for bus to hotel or return on your own by taxi.
Day 3 Milan -Venice
Depart for Venice to Pizza San Marco, visit St Mark's Basilica. Sightseeing the Palazzo dei Dogi, the legendary "Bridge of Sights", roaming along Venice's canals.
Day 4 Venice -Bologna -Florence
Depart for Florence, Bologna tour, check-in hotel Florence. Bologna will captivate you by offering emotions and genuineness. You will find this authentic spirit in the city, wandering and 'getting lost' through arcades, squares and market stalls, where human relationships and urban charm are inseparable. Starting from Piazza Maggiore, enclosed by the beautiful ancient palaces of Accursio, Re Enzo, Podestà and Notai and by the majesty of Basilica di San Petronio, you will then continue your visit discovering the many towers in Bologna, and not only the "two sisters" Garisenda and Asinelli.
Day 5 Florence
Florence, the cradle of Renaissance, with the help of Michelangelo. Visit Santa Maria del Fiore, more commonly referred to as the Duomo, Piazza Della Signoria, Palazzo Della Signoria (also known as Palazzo Vecchio), Basilica of Santa Croce, Pizza dei Miracoli with the Duomo.
Day 6 Florence -Winery -Rome
See more of Tuscany with an optional excursion to the charming medieval town of San Giminiano. To complete the Tuscan experience this excursion also includes time at a vineyard for a local wine and specialties tasting.
Day 7 Rome
Take a tour of Vatican Museuems, Sistine Chapel and St. Peters' Basilica, the largest church in the world. Walk along the beautiful Galleries of Tapestries, admiring Raphael's Rooms. The tour ends at St. Peter's Square. Bocca della Verita, Vitoriano Memorial Hall, Piazza del Campidoglio.
Day 8 Rome
Visit the ancient Colosseum, Piazza Romana, L'arco Trionfale di Constantino.
There's so much to love in Roma. You got some free time in Roma
Day 9 Rome - Atlanta
Flight to Atlanta.