Georgia Industries for the Blind partners with Georgia Grown
Date posted
March 26, 2018
Georgia Grown Unveils 100 Percent Georgia Cotton T-Shirt Line to Marketplace
Georgia Commissioner of Agriculture Gary W. Black presented Georgia State Governor Nathan Deal with a 100 percent Georgia Grown cotton t-shirt during a press conference held at the Georgia State Capitol on Tuesday, Ma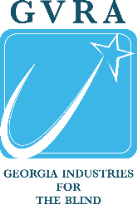 ch 20. The conference was held to announce a new line of Georgia Grown t-shirts grown and sewn locally in Georgia in partnership with the Georgia Cotton Commission, Georgia Vocational Rehabilitation Agency and Georgia's cotton farmers.
"With the largest row crop industry in this state being cotton, it is an honor to present 100 percent cotton shirts grown and sewn in Georgia," said Georgia Agriculture Commissioner Gary W. Black. "We are thrilled to identify a transparent supply chain to produce a high quality, Georgia-made product that consumers will be proud to wear."
The 100 percent cotton shirts are sourced from South Georgia and ginned at Osceola Cotton Company in Irwin County, Georgia. Platinum Sportswear receives the finished fabric and sews the shirts at their facility in Wilkes County, Georgia. The entire process is completed within a 600-mile radius.
Georgia Grown has partnered with local screen printers, including Georgia Industries for the Blind, to complete the design process for local businesses and organizations. All shirts are completely customizable and feature a 100 percent Georgia Grown cotton tag.

"Quote from Governor Deal about
the economic impacts that this has on Georgians."
Creating a supply chain that occurs in three different agrarian regions of Georgia has helped to rebuild Georgia's textile manufacturing industry and brought revitalization to rural Georgia.
"We are so proud of the effects this supply chain has had on Georgia's rural regions. Being able to establish a process that begins and ends in Georgia reiterates that Georgia is indeed Nature's Favorite State," Commissioner Gary W. Black said.
The 100 percent Georgia Grown t-shirts are available for purchase online at store.georgiagrown.com. For information about wholesale pricing and orders, please contact Lesia Walker of Georgia Industries for the Blind at Lesia.walker@gvs.ga.gov or 229-248-2666, ext. 305. For more information, please contact Georgia Grown at 404-656-3680.
###